L'injection
Le 2 avril, à l'invitation de Peter Smith, je me joins à la petite équipe britannique chargée d'emporter le traceur jusqu'au rio Rioja, collecteur principal de la cueva de la Vallina (développement : 31742 m).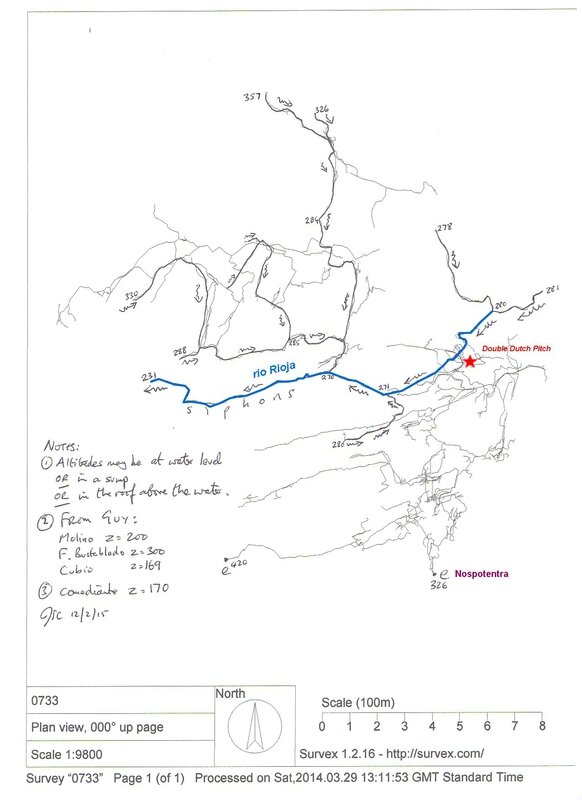 Depuis l'entrée Nospostentra il nous faut 1,5 h en musardant gentiment pour aller aux verticales (Double Dutch Pitch) permettant l'accès aux actifs.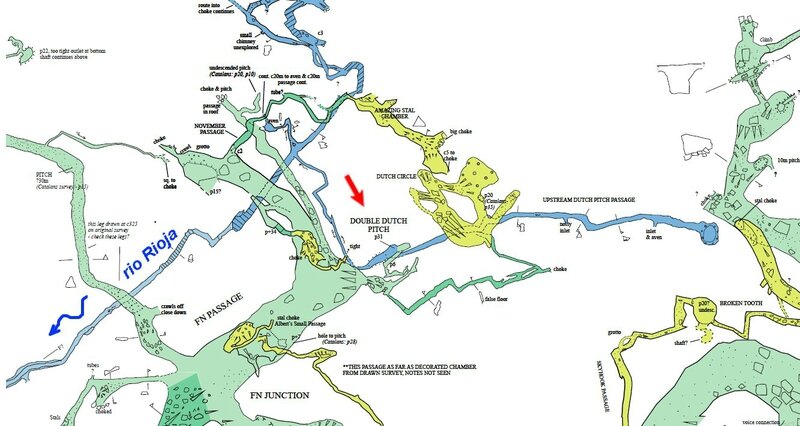 Deux participants restent en haut pour quelques tâches de topographie et c'est à 5 que nous descendons les ressauts et le joli P.31, un peu arrosé sur sa moitié inférieure.
Au sommet du P.31 (Double Dutch Pitch)
En bas le petit ruisseau (rio Double Pitch) est un affluent qui rejoint le rio Rioja une centaine de mètres plus loin.
Rio Rioja
(Matienzo Caves web site)
Le collecteur est de dimensions modestes mais le débit est encore soutenu (environ 100 L/s) en cette période de moyennes eaux. C'est un peu en aval que 4 L de traceur (Leucophor) sont déversés.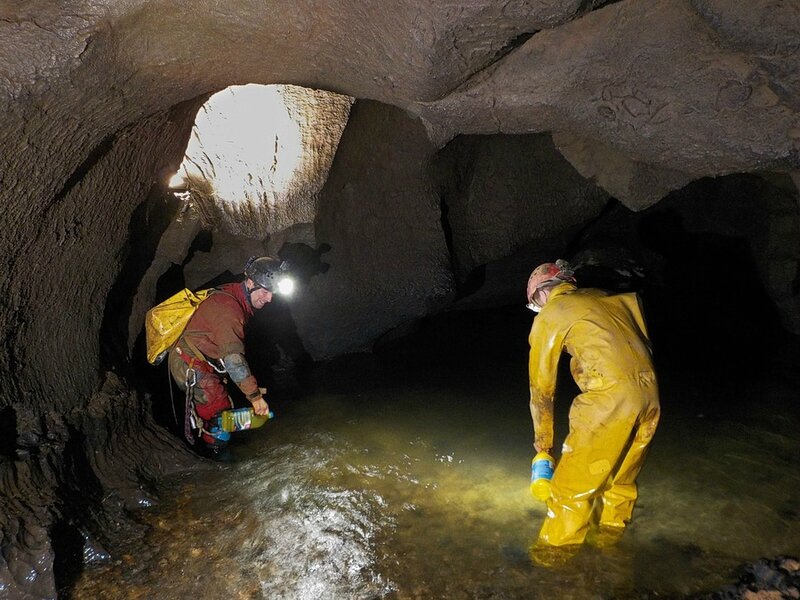 Le traceur Leucophor est déversé dans le rio Rioja (Matienzo Caves web site)
L'attente
Nos collègues anglais doivent maintenant relever les capteurs qui ont été posés, au sud à la fuente del Molino et la fuente de Barcena Morel (vallées du rio Bustablado et du río Asón, Arredondo) et au nord à la fuente Comellante (dépression de Matienzo, Ruesga). Des relevés sont également prévus en amont du río drainant la cueva de la Renada (développement : 33592 m).
Fuente del Molino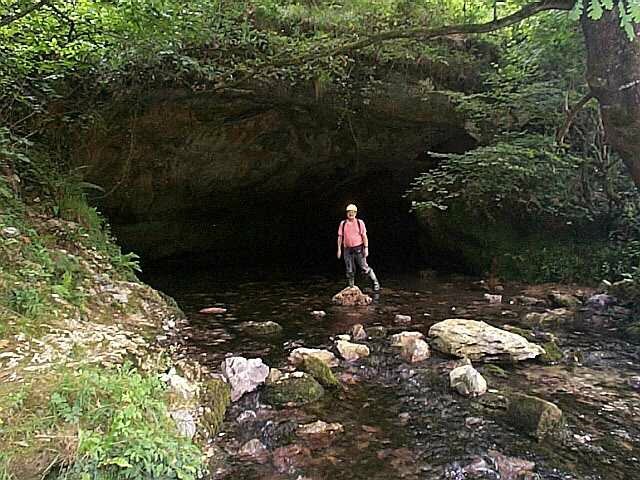 Fuente Comellante (Matienzo Caves web site)
Les jours passent et l'inquiétude quant à la qualité du traçage commence à poindre.
Peter relève des capteurs à la fuente del Molino (3 avril)
La délivrance
Le 10 avril, soit 8 jours après l'injection, le premier résultat positif est enfin relevé à la fuente Comellante. En amont de la Renada les tests sont également positifs. La présence du traceur sera encore relevée pendant la semaine suivante.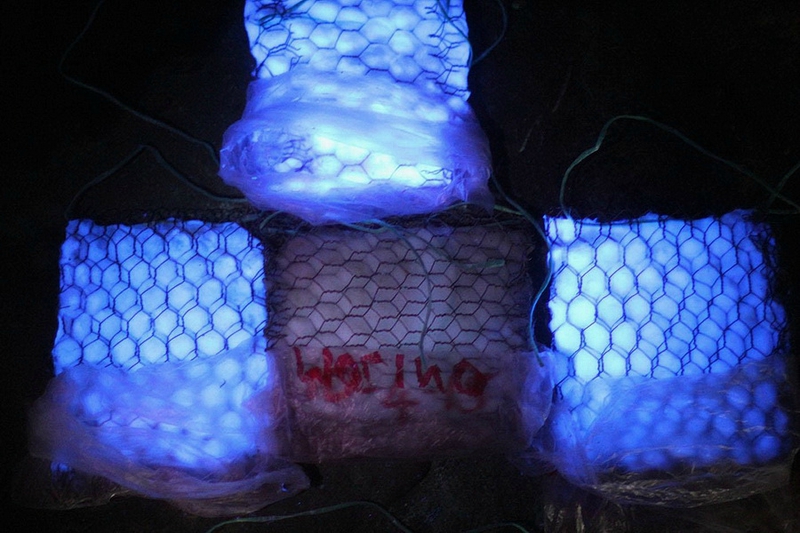 The three positive detectors from Comellante, with the negative detector from Molino
Trois détecteurs positifs issus de la fuente Comellante, et au centre le détecteur négatif de la fuente del Molino (détection sous U.V.)
Rapide bilan
La fuente Comellante est l'exutoire des actifs du réseau de la cueva de la Vallina. Plus largement les niveaux calcaires du flanc sud des massifs de Linares, Trillos, Piluca (= calcaires de la Vallina) dans lesquels se développe cette cavité sont tributaires du système hydrogéologique Comellante.
Deux autres grandes cavités du secteur, la torca de los Trillos et la torca del Hoyón appartiennent donc probablement à ce système Comellante
Traçage Vallina - Comellante
Nul doute que nos collègues et amis britanniques feront encore quelques "pruebas" pour confirmer.
En attendant encore félicitations pour le beau travail accompli par les "cavers" de Matienzo autour de Phil Papard, Juan Corrin, Peter Smith....
et pour en savoir plus le site incontournable ! www.matienzocaves.org.uk